×
BESTEL TOOLKIT VOOR AGILE LEIDERS
Ontwikkel jezelf als agile leider en vind de cultuur van jouw organisatie opnieuw uit, met concrete handvatten, praktijkvoorbeelden en stappenplannen. Bestel Agile Leadership Toolkit van Peter Koning.
Andere talen
Agile Leadership Toolkit is beschikbaar in verschillende talen
What others say

I consider this book the most useful, concrete and straightforward reading I've ever read about Agile leadership (and lot of them have been written!). Empiricism and delivery of high value to the readers are embodied in the book itself, through a set of "tools" ready to be implemented out-of-the-box. In my opinion, a must-have for agilists.

Practical, easy to read and excellent ideas for implement in agile teams! I loved this book.
See more reviewers on amazon.com
OVER AGILE LEADERHIP TOOLKIT
Als agile leader wil je dat het team groeit en sneller reageert op veranderingen in de markt. Agile Leadership Toolkit geeft je hiervoor praktische tools, concrete handvatten en stappenplannen. En biedt inspiratie met praktijkvoorbeelden en interviews. Zo ontdek je:
Hoe je op een effectieve én energieke manier grip houdt op je team.
Hoe je team zo het verschil maakt, met als resultaat: meer klantimpact.
Welke overzichten, rapportages, meetings en metrics hierbij helpen.
Wanneer je moet loslaten en wanneer je moet ingrijpen.
Wat de juiste vorm van zelforganisatie is voor jouw team.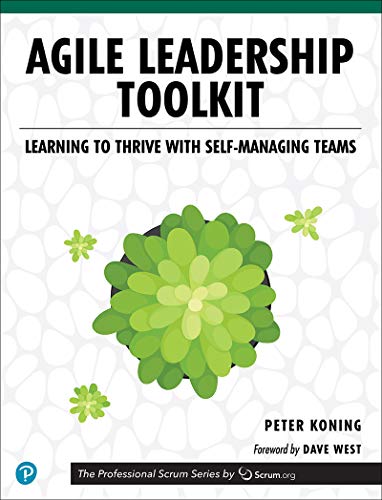 Webinar Agile Leadership Toolkit
Bekijk de Scrum.org webinar waar Peter Koning het boek 'Agile Leadership Toolkit' introduceert
The toolkit
The steering wheel of the agile leader consists of four components. Each component consists of two practical tools. So in total eight tools. The tools are explained in such a way that leaders can immediately start working on this. The tools can be used separately and as such successful. Of course, all tools together – the toolkit – reinforce each other. It concerns the following eight tools: