×
ORDER AGILE LEADERSHIP TOOLKIT
Develop yourself as an agile leader and reinvent the culture of your organization, using concrete tools, practical examples, and roadmaps. Order Agile Leadership Toolkit or Agile DNA by Peter Koning.
Different languages
Agile Leadership Toolkit is available in different languages
What others say

I consider this book the most useful, concrete and straightforward reading I've ever read about Agile leadership (and lot of them have been written!). Empiricism and delivery of high value to the readers are embodied in the book itself, through a set of "tools" ready to be implemented out-of-the-box. In my opinion, a must-have for agilists.

Practical, easy to read and excellent ideas for implement in agile teams! I loved this book.
See more reviewers on amazon.com
ABOUT AGILE LEADERSHIP TOOLKIT
As an agile leader, you want the team to grow and react faster to changes in the market. Agile Leadership Toolkit gives you practical tips, specific tools, and roadmaps. And offers you inspiration with case studies and interviews. You will discover:
How to maintain a grip on your team in an effective and energetic way.
How your team will make a difference, resulting in more customer impact.
Which overviews, reports, meetings, and metrics help.
When to let go and when to intervene.
What the right kind of self-organization is for your team.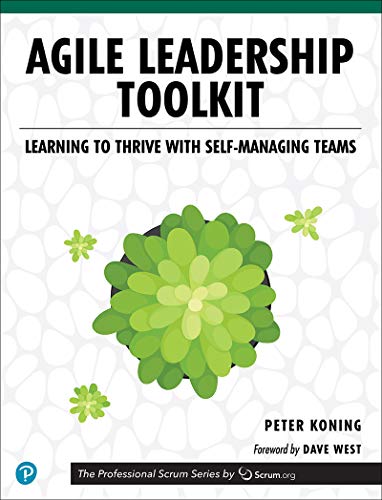 Webinar Agile Leadership Toolkit
Watch the Scrum.org webinar where Peter Koning introduces the book 'Agile Leadership Toolkit'
The toolkit
The steering wheel of the agile leader consists of four components. Each component consists of two practical tools. So in total eight tools. The tools are explained in such a way that leaders can immediately start working on this. The tools can be used separately and as such successful. Of course, all tools together – the toolkit – reinforce each other. It concerns the following eight tools: